On the road again! That old familiar feeling crept back as we drove out of Raleigh, heading south—excitement, adventure, the unknown awaiting us. Our trip this year will last about six months, so we got to spend most of March in Florida, exploring its beaches and laid back lifestyle.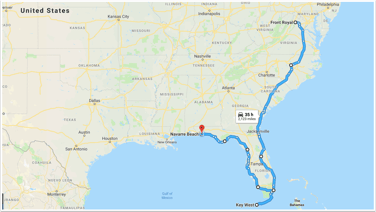 The west coast of Florida is our favorite part with its old florida charm, stunning gulf beaches, and natural springs! We ended March and began April in a familiar place, Navarre Beach.
TOTAL MILES WANDERED: 2,707
To start, here's a quick story from our travels this month while we chow down.
Moving on....
Savannah, GA
Overview: Justin's first content marketing workshop of the trip was in Savannah.
"Create content around a core topic that doesn't just create more noise." #UnboundInbounder -Justin Champion of @HubSpotAcademy He just gave us actionable tools and tips to create #contentmarketing strategy! 👍 pic.twitter.com/NzTVl5o05v

— Abshire PR (@AbshirePR) March 7, 2018
Our campground was close to the city, but seemed worlds away on a working farm amongst big oak trees draped in Spanish moss overlooking a pond. We spent a couple evenings in Savannah and loved soaking up the culture and history. We recommend visiting in March! It was warm and breezy, not at all oppressively hot like it can be in the summer.
Recommendations:
Where we camped: Red Gate Campground
Remote worker ready? Yes, the campground had wifi and Verizon cell reception was strong. Also, the Planet Fitness on Ogeechee road has a great remote working setup.
St. Augustine
Overview: We drove down the coast from Jekyll Island, stopping at Hanna Park on Atlantic Beach for a few hours before driving into St. Augustine. Atlantic Beach was gorgeous and pretty secluded for a beautiful Friday. There were RV parking spots readily available at the park, which charged a few dollars to get in.
St. Augustine, America's Oldest City, was steeped in history and seemed to be a tourist haven, though we'd love to return to explore more. We found free oversized parking behind Francis field right on W Castillo Dr. and were able to peruse the city, have dinner and drinks, and eventually make our way to Walmart to sleep.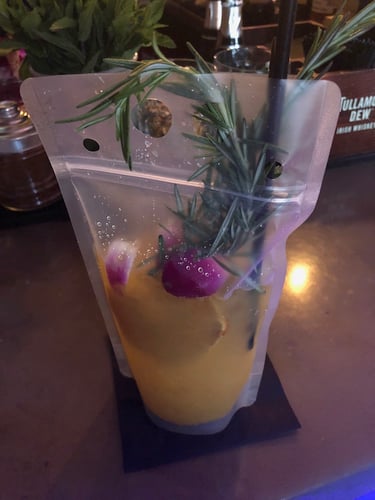 Recommendations: Embrace the craft cocktail at Odd Birds Bar and perhaps another drink at the Tini Martini Bar. Get dinner somewhere. Those drinks are no joke.
Where we camped: Walmart in St. Augustine
Remote worker ready? Yes, the Verizon cell signal was a-ok.
Orlando
Overview: Justin's second workshop was in Orlando, so we headed inland for a jaunt. Knowing we weren't going to get to go to Universal or Disney, Orlando didn't excite us too much at first.
Thanks to @Xcellimark for hosting Orlando's #unboundinbounder workshop! To the folks who came out: 🙏 for being such an interested, engaged audience. We'll definitely be back. Until then, remember to focus on the steps and #alwaysbeclimbing 🧗‍♂️🚐💨 pic.twitter.com/KCOqGrSKSa

— Justin Champion (@JustinRChampion) March 14, 2018
We met some great digital marketing peers, though! On our way out we stopped in Dr. Phillips for lunch and a Trader Joe's run—the wealth is palpable.
Recommendations: Slate Restaurant in Dr. Phillips. Everything was delicious.
Where we camped: Stage Stop Campground in Winter Garden.
Remote worker ready? Yes, the Verizon cell signal worked just fine to hold video calls. The campground did not have wifi except in their clubhouse.
miami
Overview: We were excited to explore Miami, but only had the afternoon/evening. We found street parking for the truck and airstream downtown (!) on Flagler about one mile from the water. We realized we actually wanted to be in South Beach, so we went back to the truck and took the whole set up over in pretty bad traffic. It was Spring Break, extremely crowded, and with zero hope of parking our rig, we just enjoyed driving around slowly and watching people watch us maneuver Ocean Drive. We ended up going to Little Havana for dinner and made our way south to Homestead to sleep at a Planet Fitness. We want to go back to actually experience the city and take some photos. The place was just so colorful!
Recommendations: You have to see South Beach—Ocean Drive and Collins Ave are the main roads filled with restaurants, fancy shopping, and people watching. We didn't see it, but the Art Deco District sounds like a fun place to take photos. Old's Havana for dinner—happy hour from 5-8, all drinks $5.95! Cuban sandwich, maduros, and tres leches cake were all incredible.
Where we camped: Planet Fitness in Homestead, FL.
Remote worker ready? Yes, the Verizon cell signal was a-ok.
florida keys
Overview: We spent a glorious week in paradise, enjoying the crystal clear water, bird watching, and sunshine. Two of those days, we drove down to Key West to the state park and worked by the beach. If you can plan ahead, book your stay at one of the state park campgrounds. They fill up quickly (11 months in advance!)—we were lucky to get in for one night. We would have liked to stay at Bahia Honda State Park.
Recommendations: Keys Fisheries Upstairs Bar (get the Lobster Reuben!), Zachary Taylor Historic State Park (the best beach on the keys—get there in the morning)
Where we camped: Curry Hammock State Park, Big Pine Key Fishing Lodge
Remote worker ready? Yes, the Verizon cell signal was a-ok, even way down there!
everglades national park
Overview: This was our first National Park of this trip! It did not disappoint. We camped at Long Pine Key Campground, but if you go for longer than two days, drive 35 miles southwest to the Flamingo Campground for a more wild experience. We did a couple hikes and saw lots of wild alligators, turtles, and beautiful birds! On the way out, we stopped at Everglades Alligator Farm and took an airboat tour.
Recommendations: Anhinga Trail in Everglades NP, Everglades Alligator Farm (get there to see the alligator feeding!), and drive the Tamiami Trail if you're heading west from there.
Where we camped: Long Pine Key Campground
Remote worker ready? Yes, the Verizon cell signal was a-ok, even in the NP!
Other quicker stops: Jekyll Island (campground), Daytona Beach (during bike week!), Melbourne FL (Planet Fitness), Boca Raton FL (we slept in a neighborhood and got kicked out), Rainbow Springs State Park (go to Weeki Wachee to kayak the river and see manatees! We couldn't get a kayak reservation, so bring your own or book in advance).
Florida, we love you! Thanks for the wonderful month!
Topics: Digital Nomading, Full-time Rving