We traveled a long distance in May, enough for it to feel like a couple months. We traveled to six states, three of which we'd never been before! Highlights from this month include learning to two-step in Austin, hiking massive sand dunes in Colorado, visiting family, and exploring the hidden gem that is Idaho. We're ending the month in Washington, heading to visit Ariele's mom near Seattle.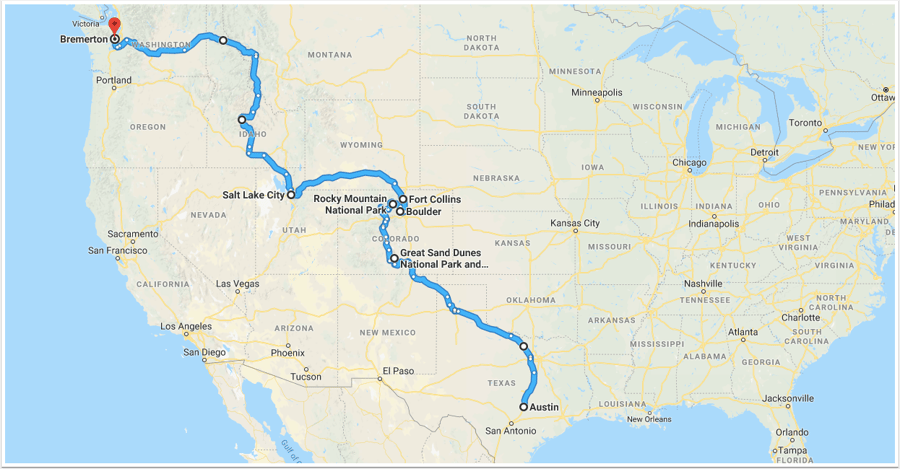 TOTAL MILES WANDERED: 3,315
Austin, TX
Overview: We've been looking forward to being back in Austin. This time, we booked in advance (about three months) to have a coveted spot at the Pecan Grove RV Park in downtown. Austin's warmth, creativity, and weirdness draws us. We feel right at home. We learned to two-step at The White Horse, ate BBQ at Terry's Black's, heard live music at Shady Grove, and wandered the boutiques and vintage shops for hours over the weekend. It's a place you will always find something new to do or see.
Recommendations:
Where we camped: Pecan Grove RV Park. Nestled in a grove of trees, this RV park is primarily residential. Highly recommend booking in advance, especially if you're staying more than a couple days.
Remote worker ready? Yes. Two- to three-bar reception for Verizon
(Click through for more photos.)
Fort Worth, TX
Overview: We've been to Fort Worth three times, now, but never to Dallas. Ft. Worth has this mix of western history and a hip vibe that mesh together in the most unique way.
Recommendations:
Where we camped: We stayed at the Will Rogers Memorial Center. It was only $30/ night and it's close to downtown. Our spot had electricity and water hookups with a dump station nearby.
Remote worker ready? Yes. Four-bar reception for Verizon.
Great Sand Dunes National Park, CO
Overview: Our first stop for our first time in CO was the Great Sand Dunes National Park. With our one day there, we decided to hike the sand dunes, as opposed to visiting other diverse areas of the park. Covering thirty square miles, the sand dunes created another world entirely. The National Parks never cease to amaze and awe us. No one is alike.
Recommendations:
Hike the High Dune "trail." Bring extra water and try to hike in the early morning or afternoon.
Where we camped: There's camping in the National Park for less than $30/ night. However, we drove a few hours to Clear Creek Reservoir State Wildlife Area just outside of Buena Vista, CO for a beautiful dispersed camping experience.
Remote worker ready? Yes. Two- to three-bar reception for Verizon when using weBoost 4G-X cellphone booster.
(Click through for more photos.)
Rocky Mountain National Park, CO
Overview: We initially drove to the west side of the park, not knowing we wanted to be on the east side. When Trail Ridge Rd. is closed, it's about a three hour trip to the other side. Once we did arrive the next day, we hiked Cub Lake. We did not have time to go back the next day, but we heard there were parts of the park with meadows full of wildflowers. Next time!
Recommendations:
Where we camped: We camped for free in the Gordon Gulch dispersed camping area.
Remote worker ready? Yes. We had two- to three-bar reception for Verizon.
Boulder, CO
Overview: Boulder was about what you'd imagine—overly cool and outdoorsy! Unfortunately not many of the Colorado cities are friendly to overnight RVers, so we "camped" about 25 min. from downtown with no hookups at the Boulder County Fairgrounds.
Recommendations:
Hike the Flatirons.
Visit the Celestial Seasonings tea factory and take a free tour. We did not do this, but totally should have. Bengal Spice is our jam.
Visit downtown Boulder and the walking mall.
Where we camped: We stayed at Boulder County Fairgrounds in Longmont, CO. Great stop. Only $15/ night without hookups, but there's a bathhouse with showers onsite.
Remote worker ready? Yes. We had two- to three-bar reception for Verizon.
FOrt Collins, CO
Overview: We enjoyed FoCo a little more than Boulder. It has a more comfortable and welcoming vibe. Again, not many campgrounds in the area.
Recommendations:
Get a 'big' burrito at Big City Burrito.
Walk around downtown/college area and enjoy the boutiques and restaurants.
Visit New Belgium Brewery. Their facility is killer and we love their beers!
Where we camped: Walmart in Loveland, CO.
Remote worker ready? Yes. Four-bar reception for Verizon.
Laramie, WY
Overview: We visited Laramie to see Ariele's cousin, Andrew, and his girlfriend, Laura. They both just completed their masters degrees at University of Wyoming! Laramie is a cute little town, with some great restaurants and bars and a vibrant college community. It was the perfect place for us to kick up our feet for a few days.
Recommendations:
See a movie at Studio City. They have the most amazing reclining seats. We saw Deadpool 2 and The Avengers there!
Eat lunch or dinner at Born in a Barn and order the peanut butter & jelly wings!
Where we camped: We stayed in Andrew's apartment parking lot. The Walmart in town allows overnighters, though.
Remote worker ready? Yes. Four-bar reception for Verizon.
Salt Lake City, UT
Overview: Justin had his next workshop in SLC, so we were happy to return to this beautiful city!
Recommendations:
If you haven't, you should see the Temple area downtown. The grounds are stunning and the tabernacle is awe inspiring. Then visit the City Creek outdoor mall.
Eat at HSL and get their General Tso's Cauliflower.
Visit Epic Brewery. One of Ariele's favorite beers is their Sour Apple Saison.
Where we camped: One of the local Walmarts. We were in the area for a few days and stayed north of the city for most of it.
Remote worker ready? Yes. Four-bar reception for Verizon.
Sawtooth National FOrest, ID
Overview: We had a few extra days to get to Seattle, so we decided to take the scenic route through Idaho. We can honestly say this has been the coolest part of our trip so far. The Sawtooth wilderness was stunning, as were the other national forests in the area. We also spent a night in Boise and were surprised at how fun and vibrant their downtown scene is!
Recommendations:
Drive the Sawtooth Scenic Byway, the Payette River Byway, and any other scenic roads you can find through national forests and wild areas.
In Boise, have a beer and eat a delicious meal at Bittercreek Alehouse.
Where we camped: We found dispersed camping throughout the national forests. They are not all listed in AllStays, but that is a good start. Visiting Boise, we stayed at one of the Walmarts in Meridian.
Remote worker ready? Yes. Four-bar reception for Verizon.
Quincy, WA
Overview: On our way to Seattle, we met up with family at Quincy Lakes. What we kept calling "the desert of Washington," this area was full of dispersed camping, hidden lakes, and beautiful scenery. There are several hikes that lead to a canyon and waterfalls. Ariele currently has a foot injury, so we could not explore as much as we would have liked to, but highly recommend staying a few days to camp and hike!
Recommendations:
Park your vehicle in any spot with a campfire ring. We parked in one of the first we saw because there was a decent cell signal for work, but there are a lot of camping spots the further deep you go.
Bring a kayak or SUP to explore the lakes, too!
Where we camped: We found dispersed camping throughout. Vault toilets available. *You technically need a Discovery Pass to explore this area.*
Remote worker ready? Yes. Two to three-bar reception for Verizon with weBoost. Roaming or one-bar service without the cell booster.
Product OF THE MONTH
Ozark Trail 52-Quart High-Performance Cooler
We've wasted a fair amount of money on ice. With a small fridge, we like to keep our waters, beer, and other beverages in a cooler. The cooler we had was basic and pretty much kept ice for maybe 18 hours. So, we invested in the off-brand of Yeti and have been so pleasantly surprised! It kept a bag of ice frozen for nearly 7 DAYS. We were so confident in how cold it was that we kept actual groceries like deli meat and condiments in there when we did a larger-than-normal grocery buy.
TINY KITCHEN RECIPE OF THE MONTH
One-Pan Pesto Salmon and Asparagus
An instant classic that will be in rotation for Wild We Wander, this healthy, hearty, filling dinner only uses one large skillet! Serves two. Don't mind the paper plate usage. Boondocking for so long means trying to conserve water usage whenever possible.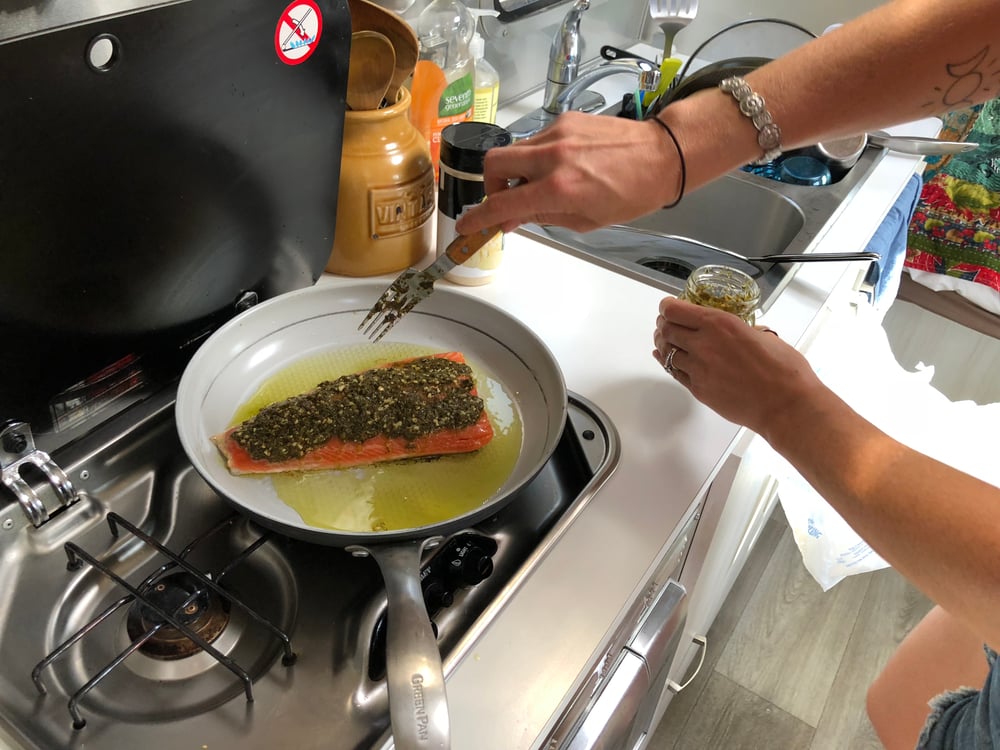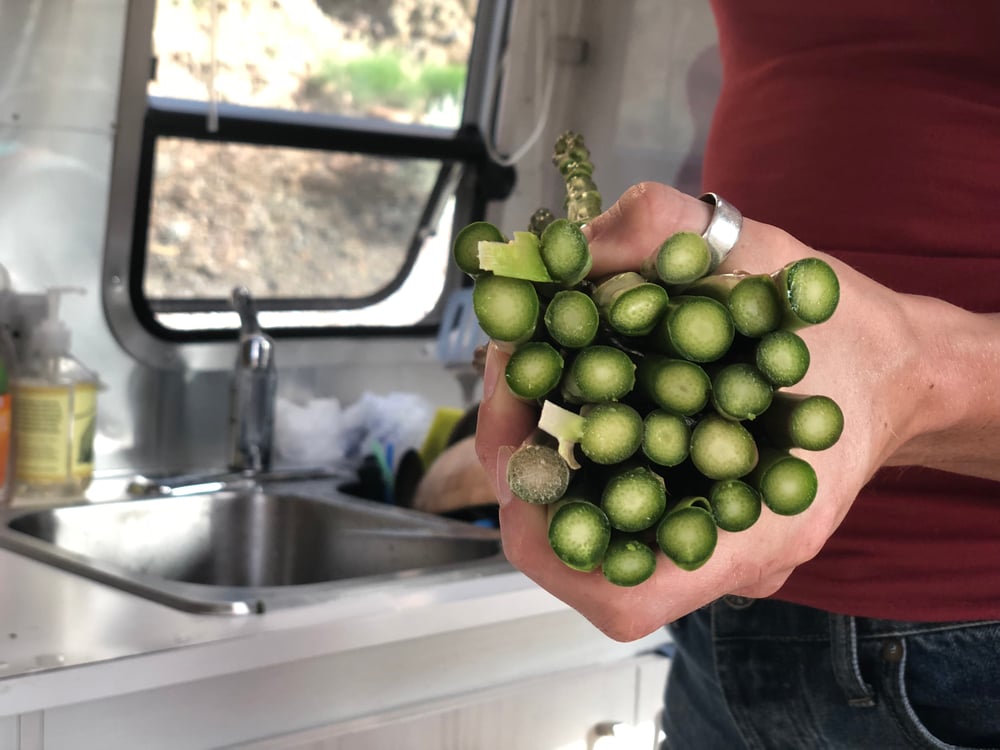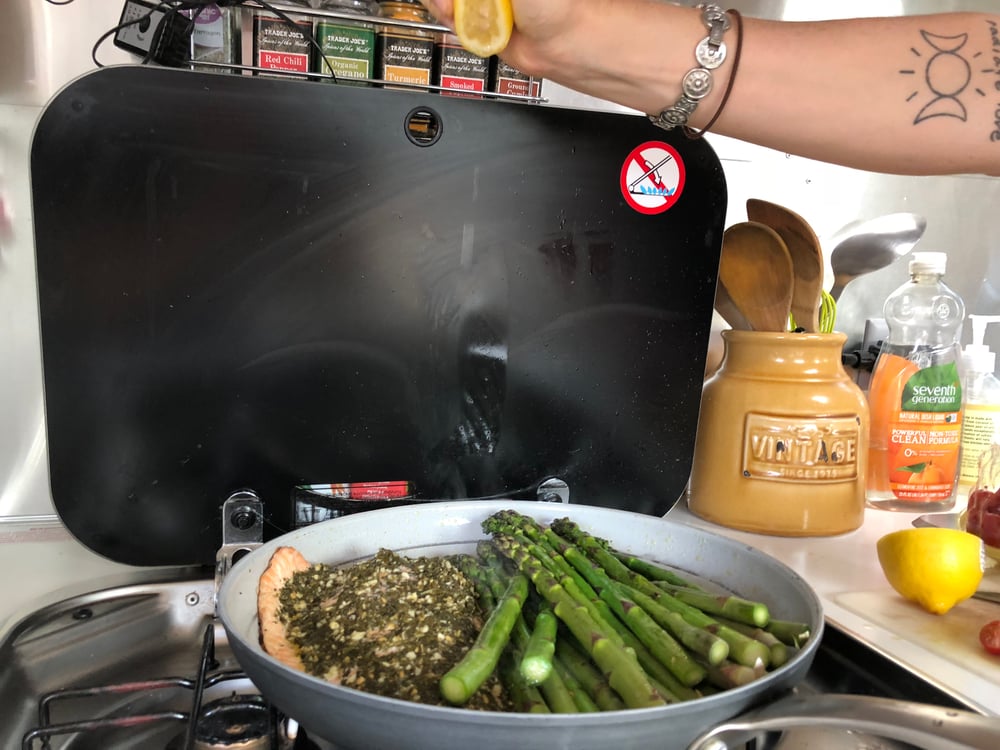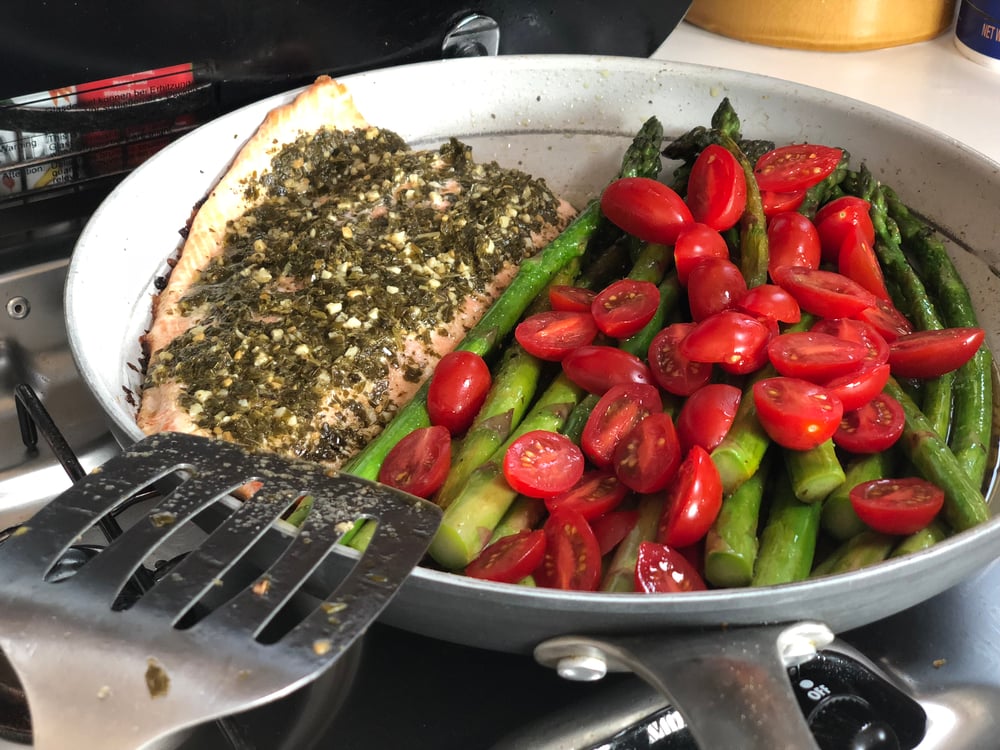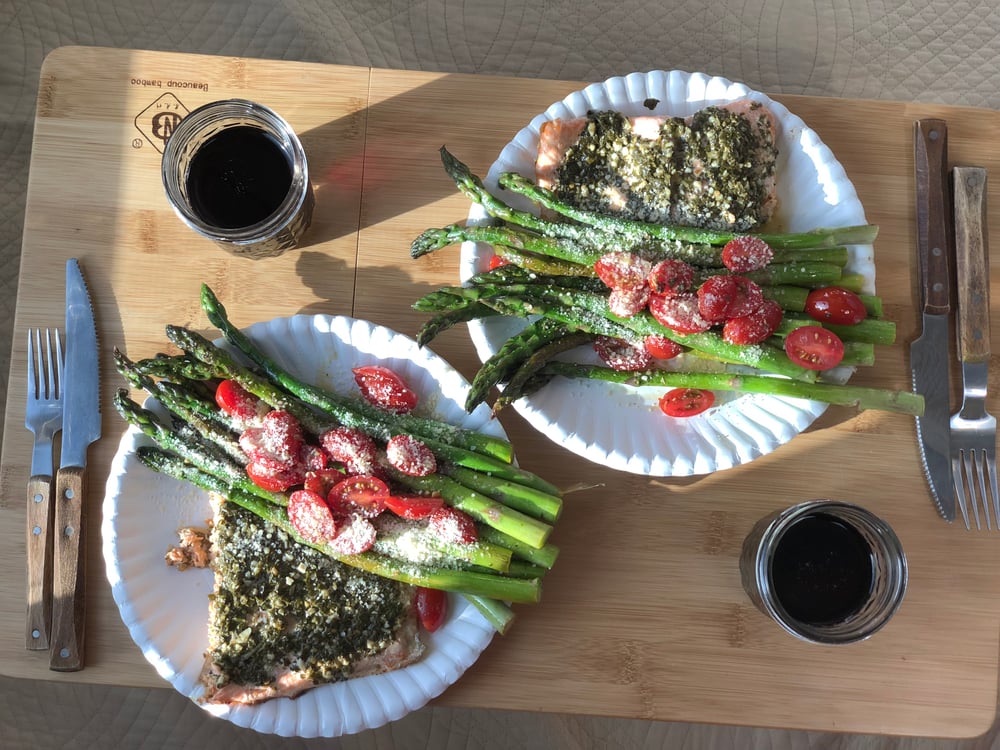 Ingredients:
.5 to 1 lb salmon, depending on how much you can eat

15 to 25 stalks of a

sparagus

15 to 20 c

herry tomatoes cut in half

2 to 3 tbsp of o

live oil
1/4 cup of pesto (we use pesto from a jar)
Sea salt and freshly cracked black pepper to taste
Half lemon to squeeze
Parmesan cheese
Cookin':
Heat olive oil in skillet over medium heat. Add your salmon filet and top with the pesto. Cover with foil and cook until almost done, about 7 to 8 minutes depending on how thick the piece is.
Move salmon to side of pan and add asparagus. Season with sea salt and black pepper. Cover again with foil, still cooking over medium heat, occasionally rotating asparagus. Don't overcook the asparagus! With as many stalks as we had, it took about 8 minutes to cook while rotating.
Squeeze lemon juice over both salmon and asparagus. Turn off the heat and add the chopped cherry tomatoes to the asparagus, mixing together. Plate and top veggies with parmesan cheese.
Topics: Digital Nomading, Full-time Rving