Time for our April roundup! We spent last month in five states, most along the beautiful gulf coast. This "deep south" part of the country is warm and charming. The way of life is slower, but richer. Live music, good food, and nature abound.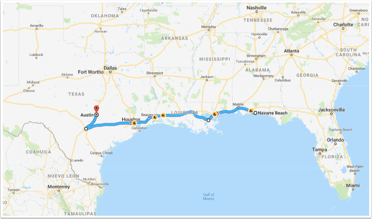 Leaving New Orleans, we felt we were beginning the second leg of our trip, moving west into Texas. The western culture, food, and music seep naturally into our bones. And after a few weeks in Texas comes New Mexico and Colorado! Enjoy our April summary below.
TOTAL MILES WANDERED: 1,543
To start, here's a quick story from our travels this month.
Navarre, FL
Overview: We were looking forward to our extended stop in Navarre Beach after discovering this gem last year. Turquoise water, white sugar beaches, large parking lots, and the National Seashore are a few reasons we recommend spending some time here. We took advantage of the campground life and made a delicious Easter feast.
Recommendations:
When boondocking, spend your days at the Navarre public beach. We'd pull the airstream everyday and had no problems parking.
Eat at Windjammers. They serve beer, wine, and a limited menu of delicious food right on the beach!
Spend $1 to walk out on the pier. We saw a huge sea turtle and a sting ray! There are also high-top wooden tables, making it a perfect place to bring lunch or dinner at eat on the pier.
Spend some time on the Gulf Islands National Seashore located between Navarre and Pensacola. Drive to one of the few parking lots early and spend your day on a secluded beach.
Where we camped: Navarre Beach Camping Resort and Navarre Walmart. By any means necessary, get a spot out of earshot of the pool. We loved this campground last year because it was fun and quiet, but we were unfortunately located next to the pool this year.
Remote worker ready? Yes, the campground had wifi and Verizon cell reception was fair. Our weBoost worked great, especially on days we boondocked.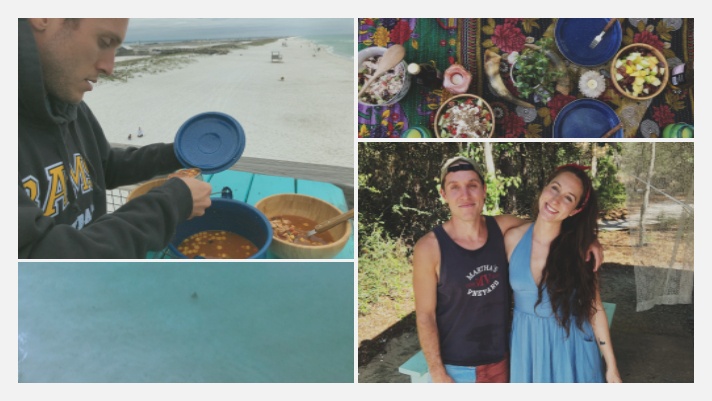 Ocean Springs, MS
Overview: Justin's mom found a Southern Lady magazine spread about this sweet little place and we had to go. The two main streets, Washington and Government, are lined with oak trees and full of boutiques, antique shops, restaurants, and surprisingly a lot of live music on the weekends.
We found the perfect parallel parking spot at the top of Washington St. for both the truck and airstream!
Recommendations:
Meander the main streets and browse the boutiques!
Remote worker ready? Yes, the Verizon cell signal was strong.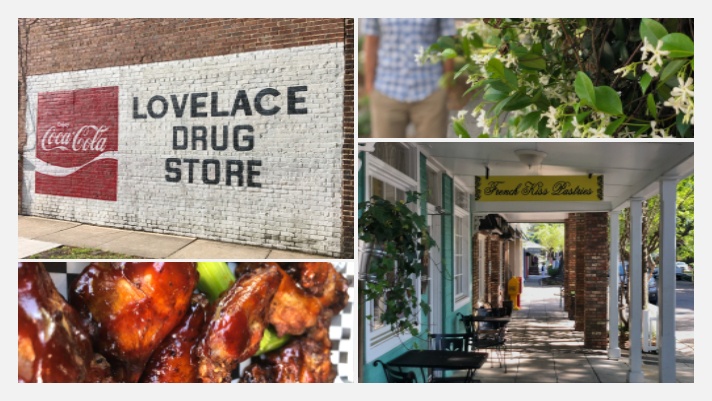 New Orleans, LA
Overview: This was a fun stop. It was Justin's birthday weekend and Ariele arranged with our friend Jesse for him to fly to NOLA and surprise Justin. Video of Justin's reaction is below! It was French Quarter Fest that weekend, though it was rained out on Saturday. We saw live music, ate amazing food, went on a Dark History Tour, and enjoyed time together.
On our way out of town, we met Justin's Great Uncle Ross. It was a really cool morning and afternoon hearing about the Champions, Justin's grandfather, and spending time with family.
Recommendations:
Spend time on Frenchmen Street away from Bourbon Street. Live music venues, quirky bars, and great restaurants all within a few blocks.
Do a guided tour with Jonathan Weiss Tours. We did the Dark History Tour and learned so much about the city through the lense of someone who has lived there all his life. Do the tour on one of your first days there. It will give you a different perspective and ideas of what to do the rest of your stay.
Where we camped: Jude Travel Park. We've stayed here twice. It's close to the French Quarter, inexpensive, safe despite the surrounding area, and Marla is a fantastic host.
Remote worker ready? Yes, the Verizon cell signal was a-ok.
Katy, TX
Overview: Justin held his third workshop in Katy. Outside of Houston, Katy is really boondock friendly! We slept at the Walmart for two nights, Planet Fitness was a mile away, as was a mall, a great brewery, and restaurants.
Recommendations:
No Label Brewing Co. They have a nice big parking lot in a rustic setting with food trucks and a happy hour!
Texas Tradition, a burger joint across the street from the brewery. Feel and eat like a local. No, really. Our waitress told us she hadn't ever waited on someone from out of town. Justin loved his burger and I actually had a great salad. Go figure.
Where we camped: Walmart, Katy TX.
Remote worker ready? Yes, the Verizon cell signal was a-ok.
Loving the #hughouston group gettin' after activity time! #unboundinbounder pic.twitter.com/KzbpZ2pxFd

— Justin Champion (@JustinRChampion) April 18, 2018
San Antonio, TX
Overview: We missed San Antonio last year and had heard so much about the Riverwalk downtown. We had been boondocking for a few days and needed a refresh, so to speak, so decided to get a campground for the night. That way, we were able to drive George downtown and enjoy without worrying about where to park Dot! There is plenty of street and lot parking. We just happened to arrive the first day of Fiesta, so we had fewer options.
The Riverwalk was so unique! It was like walking through a magical lush forest along a river that happened to also be lined with restaurants, shops, and hotels.
Recommendations:
Grab a drink, like this frozen margarita, and walk the entire length of the Riverwalk.
Tour the Alamo! It's right off the Riverwalk so you don't have an excuse.
Where we camped: Riverwalk RV Park. It was one of the closest parks to downtown, about 5 miles. $38 with AAA!
Remote worker ready? Yes, the Verizon cell signal was a-ok.
New Braunfels, TX
Overview: We spent a few nights here, getting some work done while going back and forth between Walmart and Planet Fitness (riveting, we know, but that's the life of a digital nomad). But the best part is that New Braunfels is the home of Gruene Hall (pronounced "green"), the oldest dance hall in America where many legends got their start! We bought tickets to see Charley Crockett and were overjoyed with our experience. The wooden floor looked and creaked like it had been boot stomped for 100 years. (And if you've never heard of Charley Crockett, check. him. out. Blues, honky tonk, soul, and uniquely his own genre.)
Recommendations:
Gruene Hall for a show. This is a must. The majority are free.
Gristmill River Restaurant. We didn't go out to eat because we are trying to save money, but it's highly rated and right next to Gruene Hall. It overlooks the Guadalupe River.
Walk around Gruene Historic District
Where we camped: Walmart in New Braunfels, TX.
Remote worker ready? Yes, the Verizon cell signal was a-ok.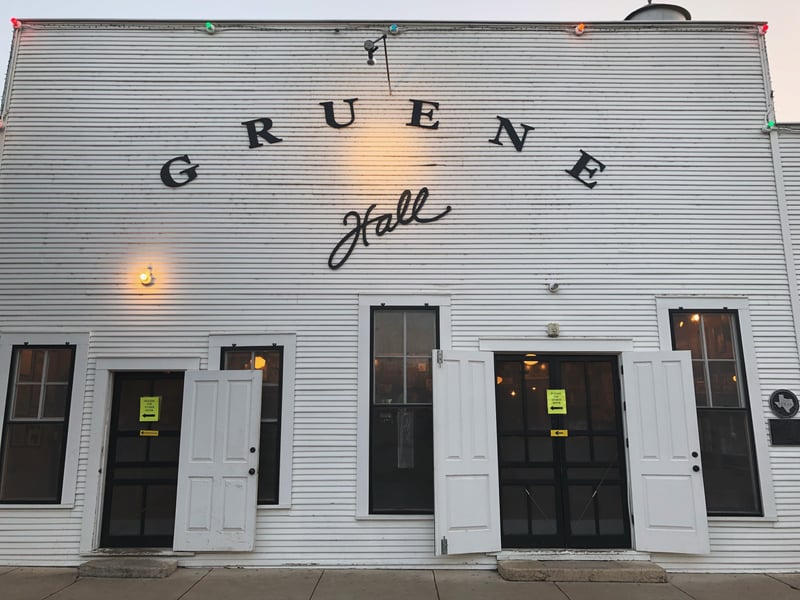 Saw @CharleyCrockett at @GrueneHallTX last night.... and 😲🕺. Haven't had that much fun at a show in awhile. He just released a new album and is on tour: https://t.co/tmcJ8HePSp Check. Him. OUT. #unboundinbounder 🎸🤠🤘 pic.twitter.com/AdJJWluEBx

— Justin Champion (@JustinRChampion) April 23, 2018
Canyon Lake, TX
Overview: Our last stop before Austin, Canyon Lake was one of those "unexpected" homes for the week. We don't have to be in Austin until the 28th, so we were going to drive around between New Braunfels and Fredericksburg in that time. I had made a list of springs, hikes, rivers, etc. to explore, but this week is actually really busy! Justin's book published and we both had several projects that need undivided attention.
Anyway, we had bought an inflatable kayak on Sunday and drove to Canyon Lake to spend the day on the water. The area charmed us so much and we found an Army Corps of Engineers campground for $26/night right on the lake, so we gladly made the decision to stay the week! There's such thing as stretching yourself too thin with this lifestyle, especially when working full time. Sometimes we like to just give ourselves a break from our own expectations of traveling to regroup for a week.
Recommendations:
We did not really leave the campground, but there are several COE parks on the water to drop in boats. Our main recommendation is just get there! The water is crystal clear and blue in the sun.
Where we camped: Potter's Creek Park (no water access unless you're camping)
Remote worker ready? Yes, the Verizon cell signal was fantastic!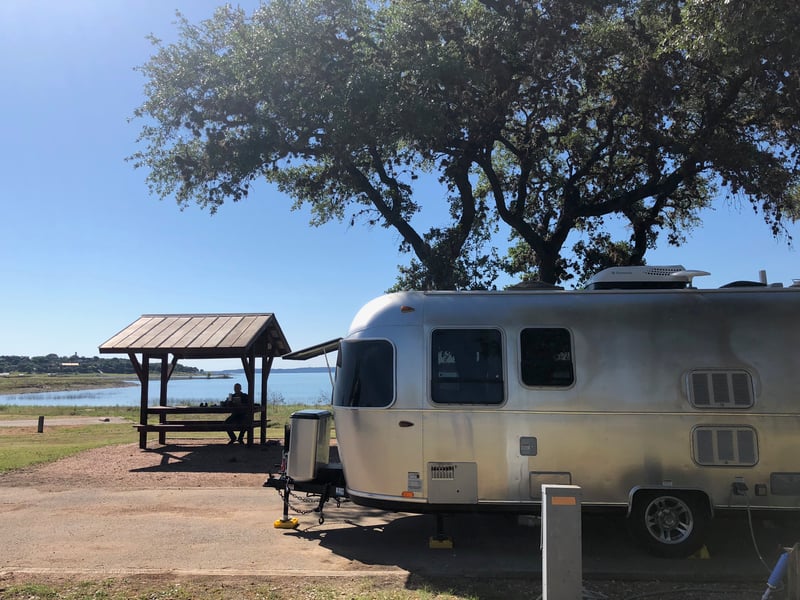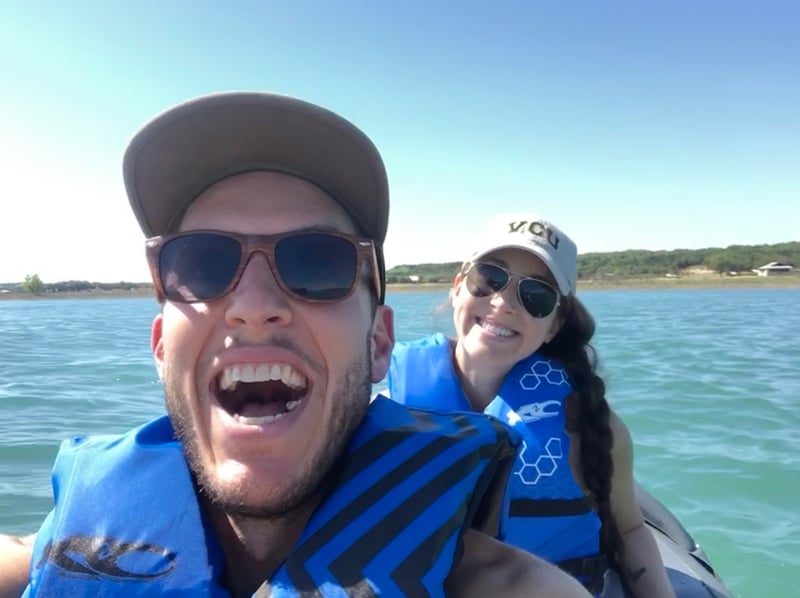 PRODUCT OF THE MONTH
Intex Explorer K2 Kayak, 2-Person Inflatable Kayak set
We have been looking to get a kayak ever since our journey started. However, we don't have the space for it. That is until we found this inflatable gem:
In honor of #inboundcontent launching tomorrow, Ariele and I sprung for something we've been looking for to make the #unboundinbounder tour that much better. 👌🚣‍♀️ pic.twitter.com/wz5CqLEvd9

— Justin Champion (@JustinRChampion) April 23, 2018
It's durable and collapsible, which is exactly what we needed.
tiny kitchen recipe of the Month
Cashew Curry Chicken with Coconut Cauliflower Rice
This recipe is rich, filling, tasty, and diabetic-friendly! (Did you know Ariele is Type One?) Makes 2 to 4 servings depending on the size of your husband's stomach...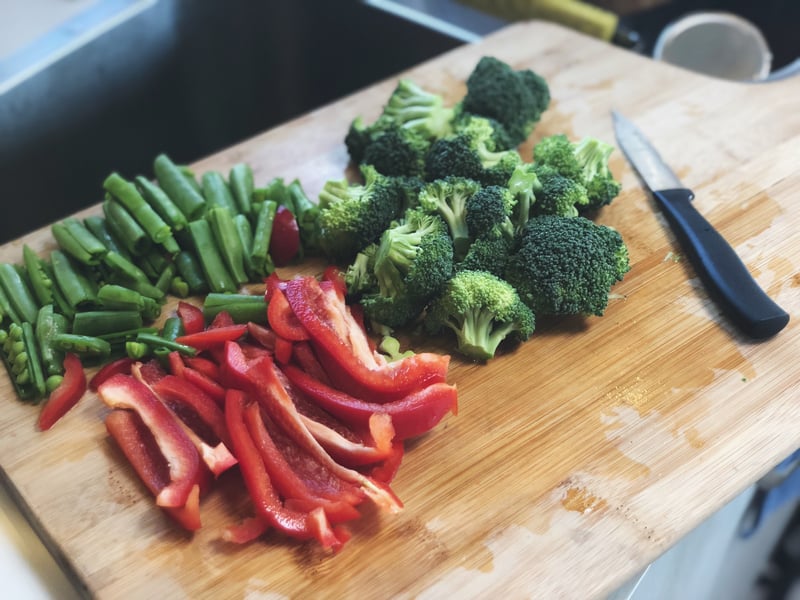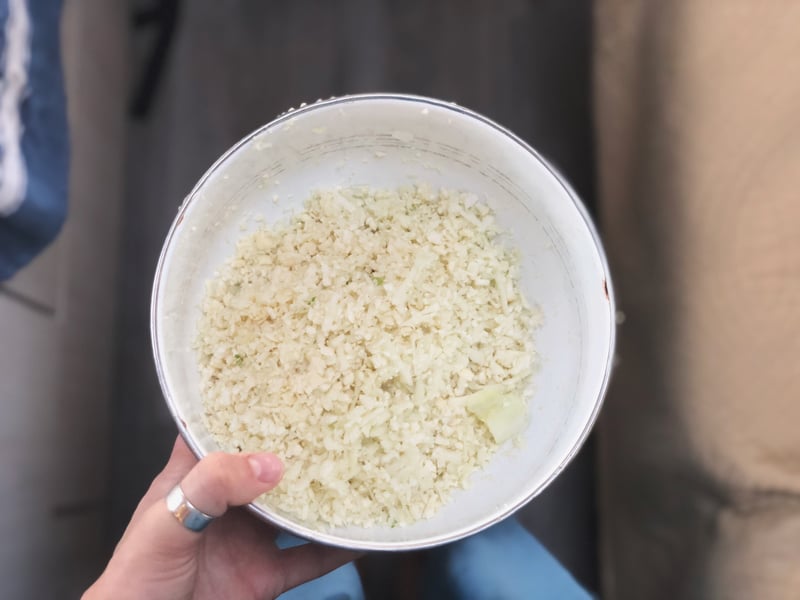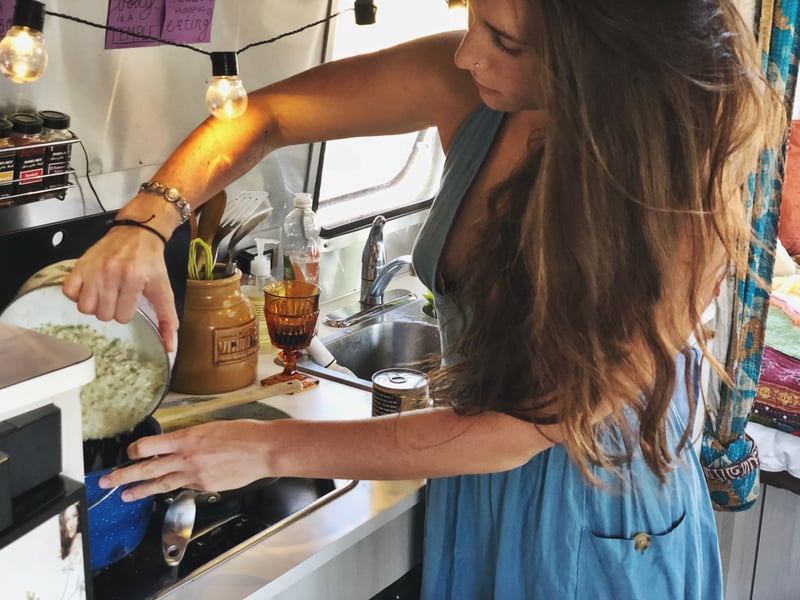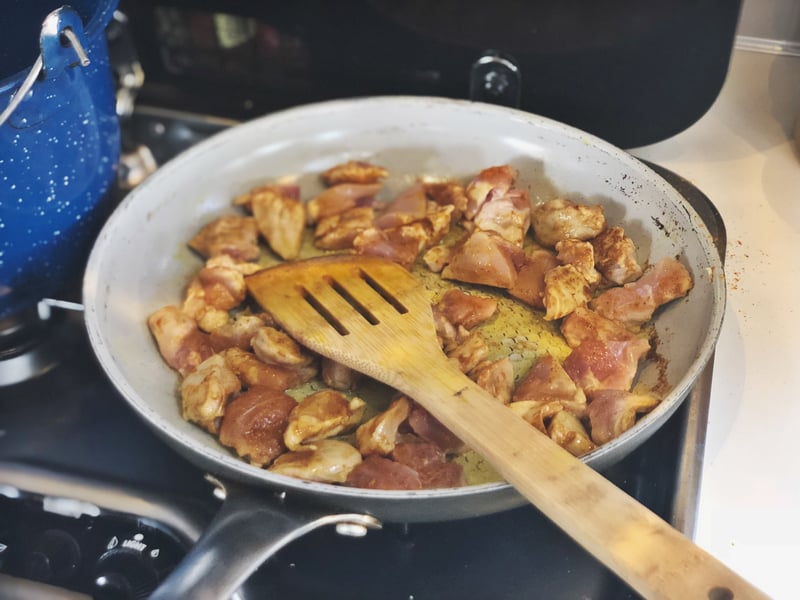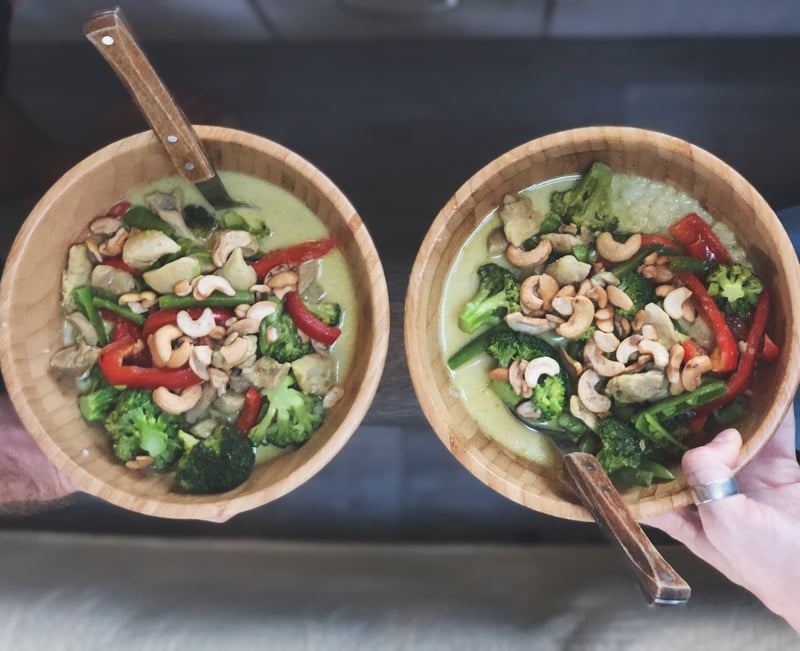 Ingredients:
Cauliflower, one head grated into rice (or one bag of cauliflower rice)




If you bought a whole cauliflower head and live in a tiny space like we do, pull out your cheese grater! And probably go outside; it gets messy. Cut the cauliflower head in half to make it easier to hold. Over a large mixing bowl, grate both halves of the cauliflower head. A food processor would make this much easier.

Coconut cream, 2 cans
Salt and Pepper to taste
Chicken thighs cut into cubes, one pound
Coconut oil, 2 tbsp
Red or green curry paste, 2 tbsp
Red onion, half, diced
Broccoli crowns
Sugar snap peas, ends cut off and sliced in half
Red bell pepper, half, cut in thin strips
Cashews for topping
Cookin':
Heat coconut oil in a large frying pan over medium heat. Add diced onion and curry paste. Cook until the onion is translucent, about 5 minutes.
Add the chicken thighs and fry until just cooked, but don't overcook! Then add one can of coconut cream, stir, and let simmer for 15 minutes.
Meanwhile, if you have a third burner, add a 1/2 cup water to a frying pan and throw in the broccoli, sugar snap peas, and red bell pepper. Cover and cook on medium until the broccoli is cooked through and then add these veggies to the chicken, mixing with the coconut cream.
Also meanwhile, add the cauliflower rice to a medium-sized sauce pan or pot on medium heat. Add the other can of coconut cream and stir. You may need to add a small amount of water depending on the brand of coconut cream you have. I think less is better when it comes to watering down this dish. Let the cauliflower simmer until cooked, approximately 10 minutes. Stir often as not to burn the coconut cream. Add salt and pepper to taste.
In a large dinner bowl, add cauliflower rice, chicken, and vegetables, making sure to get some sauce from the coconut cream curry. Top with chopped cashews!
Topics: Digital Nomading, Full-time Rving