a.k.a.,

The Art of Pivoting;
a.k.a., A Fresh Start;
a.k.a.,
Letting Go and Moving Forward;
a.k.a.,
We're Finished! (Sort of);
a.k.a.,
Apparently We Have a Fairy Godmother;
a.k.a., Manifesting Reality Isn't Always What You Expect;
a.k.a.,
Our Next Chapter.
So, we bought another camper.
Wait, back up, what?
It all started when we decided to renovate Virginia Blue by ourselves. Back in the summer of 2015 after camping in her a few times (and falling in love), Justin and I would spend evenings and weekends demoing our new project.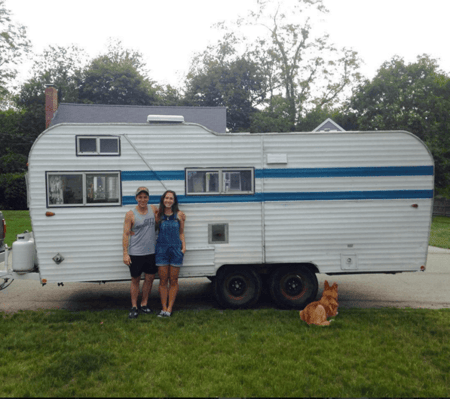 We were SO excited. There was all this potential swimming around in our heads; Justin dreamt of rooftop decks for star gazing and drum playing, while I dreamt of a cozy bohemian work/play space. Then there was our first particularly difficult weekend. I was home, planning our upcoming wedding and Justin spent an arduous day alone removing the back siding. Surprise! Wood rot. And lots of it. (This, kids, was the first of many overwhelming moments, especially for Justin.) That same night, we found a camper renovator via Google search–the only person in Massachusetts who could take on our project. We jumped on the opportunity to have professional help. "Professional" help. ...We go back and forth wishing we had known what we know now about this person's abilities. In the end, we learned a lot from working with someone: patience, communication, getting things in writing, and knowing when to quit. Unfortunately, it cost us our trailer.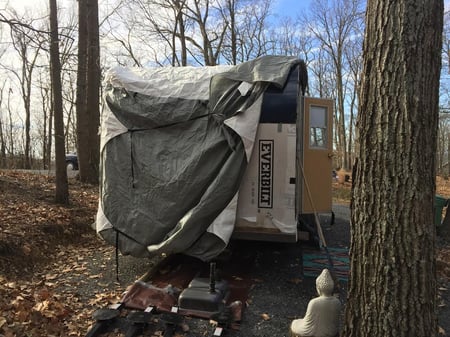 Once we moved the camper to Virginia a few months ago, we began work again with new motivation, excitement, and promise. So when we found the first spot of mold, it did not seem like a big deal. We treated it topically with a bleach solution and let it dry the best we could (in the cold, damp winter).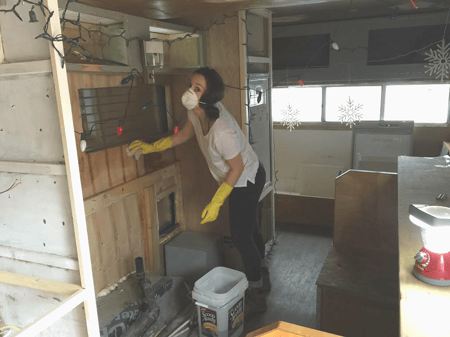 The mold wasn't surprising given the way the camper was treated for so long under someone else's care. So I guess we weren't surprised, only completely devastated, when Justin found extensive mold growing on the plywood underneath the siding and various spots spread throughout the interior. Sure, we could remove the siding and rip up the rest of the camper for that matter. But, it'd cost us another summer. More money. And more importantly, more emotional and mental strain.
We aren't writing this post to emphasize the negative side of this story. We just want to tell a real story about renovation because sometimes things just don't work out as planned. We put our bodies, minds, hearts, tears, and laughs into this project on and off for nearly two years. Maybe we weren't the right people or it wasn't the right time. It made us reset and remember why we wanted a camper in the first place. Virginia Blue had become larger than life, larger than our goal of traveling, and so large that she was holding us back.
So we decided to move on. We sold her to someone who has the passion, knowledge, and resources to complete her the way she deserves, which is important to us. Plus, he said he'd consider selling her back to us down the road.
It is so important right now for us (and for each one of you) to focus on what makes you feel love, compassion, and empathy. Find your happy place because there is where we can begin to find harmony with those around us.
So come April, we're headed anywhere and everyewhere with our truck camper... AND 2017 AIRSTREAM 22FB BAMBI SPORT (!!!) ...with love, a fresh perspective, a positive disposition, and (of course) Rosie.
With infinite love and gratitude for following our journey,
Ariele and Justin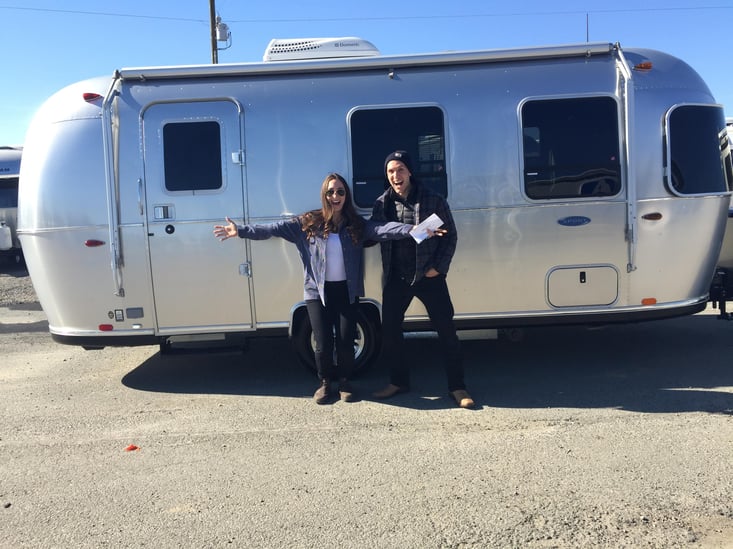 Topics: Full-time Rving