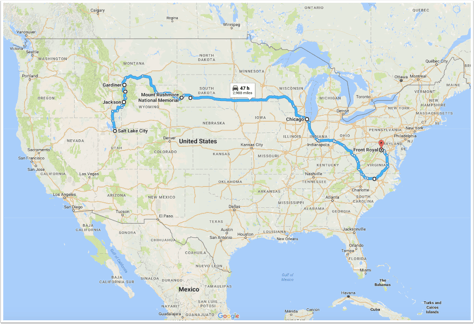 June may have been our favorite traveling month, though it's hard to compare states. We began at Grand Teton National Park. We fell in love with the wildlife, the mountains, and Jackson. But, June was also bittersweet because we began our journey back east, ultimately ending in Virginia on June 29th. Words can't express how much we feel we've changed in such a short time. Living in a tiny mobile space and seeing new places makes you see yourself from an alternative perspective. And we loved it.
Fun tip: We discovered Planet Fitness! $20/month, unlimited guest access, and unlimited access to any gym across the country. And there are a ton of them! Really stepped up our fitness game this month.
TOTAL MILES WANDERED: 3,978


Jackson, WY
Overview: One of our favorite stops. The Grand Teton National Park, Jackson, and the surrounding area spoke to us. It's protected wild, lush green, turquoise lakes, snowcapped Teton Mountains all combined to mesmerize our eyes and calm our souls. We stayed here for nearly a week.
Recommendations:
Take a hike! There are so many great options in the National Park. We hiked across Death Canyon and down around Phelps Lake. Make sure to jump the "jump rock" into the meltwater-fed Phelps Lake!
Visit Jackson for some shopping, people watching, and huckleberry ice cream at Moo's Gourmet Ice Cream shop.
Visit the Murie Ranch and get a tour from Docent Dan. You won't regret learning about the inspiring beautiful story of Mardy and Olaus Murie.
Stare in awe at the Teton Mountains in a quiet place. Close your eyes. Breathe deeply.
Where we camped: Shadow Mountain campground in the Teton National Forest. This is free first-come-first-served dry camping, but there are campgrounds within 15 miles with spouts to fill up with water when needed.
Remote worker ready? Yes, there was Verizon service for our mifi.
Yellowstone, WY
Overview: We traveled up from Grand Teton National Park to Yellowstone National Park and spent two days exploring the park. It was a lot different from Grand Teton because there were more tourists and it was more of a driving park, as opposed to hiking and exploring.
Recommendations:
This is one of those places you should book a campground ahead of time if you want hookups.
Visit the Lamar Valley early--we're talking sun up, you're there--to get a parking spot along the road (it fills up quickly and the animals are out early!). Bring binoculars and patience and you will likely see wolves, bears, bison, elk, and more!
Where we camped: We stayed incognito just outside the north entrance to the park in Montana. We slept on a side street that had free parking, but we made sure we were out by the early morning.
Remote worker ready? Not really. Parts of the park had a Verizon signal, as did the town outside of the park, but we didn't rely on it.
Custer, SD
Overview: This "stop" consisted of one day and a few stops on our way to the Badlands.
Recommendations:
Visit Mount Rushmore if you've never seen it. Your National Park Pass won't get you in here (even though it's a National Monument), but it is still pretty awesome to see.
Drive the Iron Mountain Road (16A) on your way to Mount Rushmore. Listed on dangerousroads.net, it has twists and turns and one way tunnels and bridges. Roll down your windows and enjoy the drive! We hauled Dot and had no problem.
Where we camped: Black Hills National Forest. Promotive camping is free and we found a spot a few miles in on Route 16 down Mann Rd.-->Forest Rd. 1A (to the right if you're heading east) in a field amongst trees. We even had some bovine visitors. You can stay up to 14 nights.
Remote worker ready? No service.
Badlands, SD
Overview: This was such a unique National Park, showing beauty in complete desolation. We even saw a ram up close on our hike!
Recommendations:
Hike Castle Trail (bring a lot of water.... it's long and hot)
Drive through the park at sunset
Where we camped: Badlands Interior Motel and Campground. This place has a pool, which is nice after a long hike. Also they offer never-ending sourdough pancakes (from a 100-year old starter) and sausage for under $8.
Remote worker ready? Yes, there was Verizon service for our mifi.
Madison, WI
Overview: We stopped in Madison and decided to "stay one more day" about four times. It was one of those times on our trip we felt comfortable and not rushed.
Recommendations:
Take a stroll down State Street. Lots of shops, bars, and restaurants. The street is mainly pedestrian.
Hit up the incredibly inexpensive happy hour at Nomad World Pub (and then take your hungry self to The Weary Traveler Freehouse for the best turkey rueben / other incredible food!)
Eat dinner at The Old Fashioned
Where we camped: Mendota County Park. Electric hookups with water and dump station nearby, super pretty loop with tall trees, near Mendota Lake. Reserve online first (though we didn't), but there were only a couple spots for first-come-first-serve.
Remote worker ready? Yes, there was Verizon service for our mifi.
Chicago, IL
Overview: Justin held his final workshop in Chicago. We explored the city and had dinner with friends!
Final workshop on the #unboundinbounder tour at @TheWipTheater @ChiAreaHUG pic.twitter.com/n6pu32zxiu

— Justin Champion (@JustinRChampion) June 21, 2017
Recommendations:
Go to Millenium Park to see the giant reflective bean and sit on the lawn (hopefully there is a concert or some type of performance!)
Walk along the lake starting at the Navy Pier (ferris wheel ride, anyone?) and maybe stop for a drink at the cute beach bar by the shore.
Where we stayed: Chicago Northwest KOA. Not our first choice, but campgrounds were few and far between around Chicago. It took about an hour and a half to drive into the city.
Remote worker ready? Yes, there was Verizon service for our mifi.
Raleigh, NC
Overview: We've lived in Raleigh, NC on and off over the past 10 years. We have a lot of freinds and family in the area, so this is a place we frequent multiple times a year. It was the final stop on our journey.
Recommendations:
Mac n' cheese (split it) and a side of fresh baked bread at Poole's diner. We cannot emphasize this enough.
Bike or hike along the Tobacco Trail
Visit downtown and check out the shops (grab something local at DECO)
Where we stayed: Umstead State Park offers trailer camping, but only has a few spots. Nice spot if you're able to get a reservation. Falls Lake State Recreational Area is another nice spot for camping if you want to be close to the water.
Remote worker ready? Yes, there was Verizon service for our mifi.
What's Next
We're heading up to Massachusetts for the remainder of Summer and Fall. We'll be staying in various parks and are always open to some friendly boondocking in driveways! ;) ;)
Topics: Wandering Log, Digital Nomading, Full-time Rving